Products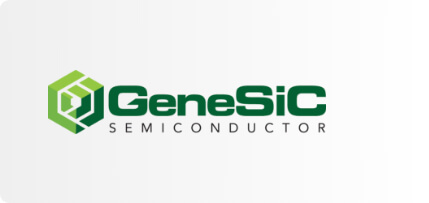 Formerly part of world-famous team that was the first to successfully develop functioning SiC-based semiconductors, the company's founder and owner, Dr. Ranbir Singh has many years of experience and in-depth know-how in this area.
The company GeneSiC Semiconductor Inc., founded in 2004, have developed its own chips as discrete components and as bare dies - exclusively based on silicon carbide.
Our design and test house is located in the capital of the USA, Washington DC. We manufacture our chips in the X-FAB in Texas on 6" SiC substrates. The packaging takes place in Asia, typically fabless, which guarantees a particularly efficient cost structure.
We are highly specialized in SiC Schottky diodes and the latest Mosfet transistors. Everything in the newest thin wafer generation and manufactured on large 6" silicon carbide wafers.
Discrete diodes and MOSFETs based on SiC.
Also as chips.
Silicon carbide semiconductors have since long time found their place in modern switching regulator architectures. If high integration density or high efficiency is important, components made of silicon carbide can fully exploit their physical advantages. Due to their short switching times, the switching frequency can often be increased, the passive components can be made smaller and the overall system costs can be reduced.
For a simple increase in efficiency, you can replace your currently used silicon semiconductors directly with our THT, SMD or screw connection diodes and Mosfets.