Thermal interface material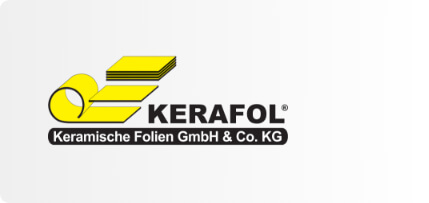 The company KERAFOL® - Keramische Folien GmbH & Co. KG - is the specialist for ceramic foils and an important manufacturer of technical ceramics.
KERAFOL successfully develops and produces products for the thermal management sector. The products have been used in various electronic applications for over 25 years, from power electronics to various automotive applications such as batteries, electric powertrains, on-board chargers, sensors and much more.
KERAFOL offers a unique product portfolio especially for thermal management requirements from the automotive sector. This ranges from 2-component liquid gap filler , thermal paste (silicone and silicone-free), compressible gap pads as well as high thermally conductive and insulating thin foils to thermally conductive liquid and tape adhesives. Not to mentio customized solutions.
This comprehensive range of thermal interface materials ensures efficient cooling of the electronic components through the connection of the heat source to the heat sink with simultaneous electrical insulation - an important basic requirement for the high quality standards in the automotive sector.
With the KERAFOL Thermal Interface Material, the connection and compensation of corresponding component tolerances, gaps or air inclusions can be easily and individually implemented.
Thus, Kerafol offers the optimal solution for every thermal problem and helps you to meet the thermal management requirements of today and tomorrow.
Many like it warm - electronics don't
The expected service life and the reliability of assemblies or the components used are directly related to the temperature of the components. In order for this to be calculable and also to be guaranteed in series production, the thermal connection must be long-term stable and of high quality. We offer a wide range of thermal interface materials for a wide variety of applications and production options.
Since all of our TIM are based on ceramics, they are almost all electrically insulating. There is a choice of thermally conductive foils, crosslinking two-component compounds, thermally conductive adhesives and thermally conductive pastes.